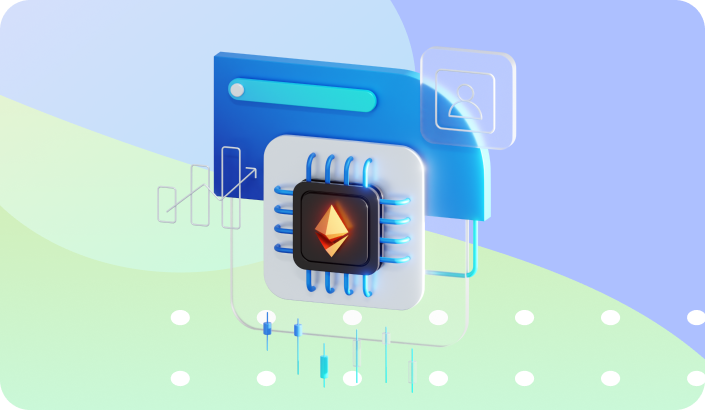 What is an NFT: plunging into the world of collectible tokens
NFT fever has hit the crypto market: collectors are buying rare tokenized items at a fabulous price. 12-year-old Benjamin Ahmed sold his Weird Whales collection for $160,000, the first tweet from the site's founder, Jack Dorsey, was auctioned off for $2.5 million, and Elon Musk's track was put up for sale for $69 million. We take a look at what NFTs are, how they differ from other tokens, where to buy and how to create them.
Description: In this article, you will learn what is NFT, how to mint and where to buy NFT, as well as what the difference between NFT and other tokens
What is an NFT, how did NFTs emerge, and what makes them unique?
NFT or a non-fungible token is a tokenized asset issued on the blockchain that represents a unique copy of something. Its main characteristic is that an NFT cannot be replaced, which is why tokens are also called non-fungible.
CryptoPunks art pieces became the first implementation of NFT technology automatically generated by an algorithm created on Ethereum in 2017 by the American studio Larva Labs. This is a limited collector's edition of 10,000 unique pieces. Anyone who had an ETH wallet could get one picture for free. Now the cost of some arts reaches $7.5 million on the Crypto Punks marketplace.
The popular blockchain game CryptoKitties appeared later but became more popular: a real hype was formed around the game, and the influx of users led to large transaction delays on the Ethereum network, due to which fees rose dramatically. The unique principle behind the game is that the owners of unique pets can breed new virtual kittens and then sell them on the marketplace.
The only similarity between non-fungible and fungible tokens is that they are issued on the basis of a ready-made protocol with a smart contract. For example, Ethereum is a cryptocurrency and has its own blockchain. ETH coins are used to pay commissions regardless of which asset you transfer or exchange. And USDT is an ERC-20 token that is issued on a non-native blockchain.
Note: The Bitcoin protocol also has its own blockchain, but it does not have smart contracts, so you cannot issue NFTs on it.
Any real or virtual asset that meets the conditions of indivisibility and uniqueness can act as an interchangeable token: an object of art, a piece of land, a digital ticket, a virtual game character, and even a tweet. For example, Ethereum cannot be NFT, since there are many copies of it, and the coin is divided into 100 million parts (gwei). But an image of an ETH coin or a physical unique copy can.
What is the difference between non-fungible and regular tokens?
To illustrate the differences between NFTs and Fungible Tokens (FT), we have highlighted a number of properties and recorded them in a handy table so you can easily see the difference.
| | | |
| --- | --- | --- |
| Property | NFT | FT |
| Replaceability | NFTs are unique and irreplaceable. In other words, you cannot exchange NFT for any other asset: Bitcoin, altcoins, or stocks. | Fungible tokens can be exchanged for other assets as their value is quoted in advance. |
| How to buy/sell | Non-fungible tokens are sold on a specialized marketplace, most often either as a product in a store or in an auction format: the seller sets the price, and the buyers place bids. In some cases, NFTs are exchanged via order books, such as on the metaverse platform Star Atlas. | FTs are traded on exchanges and can be exchanged for different assets/currencies. |
| Divisibility | NFTs are indivisible: you cannot sell a painting or a music track in parts, only in its entirety. | Fungible tokens are divided into fractional parts. For example, 1 BTC equals 100 million shares (satoshi). Users can buy 0.01, 0.001 BTC, and so on. |
| Format | A special protocol standard is used to create tokens: in Ethereum it's ERC-721, and in Binance Smart Chain it's BEP-721. | FTs are issued based on a basic standard like ERC-20 in Ethereum and BEP-20 in BSC. |
What's so special about NFTs?
Blockchain stores records of all transactions. This means that any user can check which wallet the asset belongs to and where it came from. Blockchain has long been used in intellectual property and copyright. Decentralized technologies made it possible to eliminate the possibility of counterfeiting, simplified the process of verifying authenticity, and made the process cheaper.
To verify the authenticity of a work of art's provenance, you no longer need to consult an expert: all you need to do is look at the records in the blockchain to ensure that the copy is the original. In addition, the process of transferring ownership is also simplified, as the transaction is automatically recorded on the Blockchain and handled through a smart contract, so there is no need to involve lawyers to secure it.
When you buy a non-fungible token, you get a unique identifier that you can use to prove ownership of the instance.
NFTs can be tied to goods from the real world, but in this case, nuances arise, and the delays remain the same since the real product must be authenticated, transported, and stored somewhere. One solution to the problem is to destroy the asset by converting it to NFT. So did Injective Protocol, which bought the Banksy painting Morons (White) from a New York gallery and burned the canvas, turning it into a virtual NFT asset.
Another benefit would be the functionality to monetize content directly. Authors who publish their works on Youtube, Spotify, or TikTok are forced to share a large part of their profits with the platform. NFTs will become an alternative: in this case, the authors will receive all the profits and they will not need intermediaries who have to pay.
The Most Expensive NFTs Ever Sold
NFTs have gone mainstream: nonfungible tokens are issued by well-known companies and celebrities. Even the Coca-Cola Company and the popular Playboy magazine have released their own NFT collections. According to Etherscan the number ofERC-721 tokens exceeds 21,000, and many of them are of special value. But the cost of some copies reaches several million dollars. We're providing a list of the most expensive sold NFTs at the price at the time of the transaction for you:
Where to buy NFT?
NFTs are traded on both specialized centralized and decentralized marketplaces. Here's a list of the most popular platforms for trading non-fungible tokens:
Who can create an NFT and how?
Any user can create their own NFT token or release a collection on both a centralized (CEX) and a decentralized (DEX) marketplace. If you are an art designer, composer, or own unique or rare collectibles, then just follow a few simple steps to create your NFT. We will describe to you how to get it done on decentralized platforms.
Choose an asset
Anything can be tokenized: a virtual painting, pixel art, game, text, video, living space, or even digital tickets to an event, provided that they belong to you.
Choose the platform on which you will create NFT fungible
The most popular platform for issuing non-tokens is Ethereum. Millions of users buy and sell collectible tokens every day. The largest marketplaces such as OpenSea and Rarible are built on Ethereum. But you can choose other blockchains like BSC, WAX or Flow. Remember: where there are more users, there is stronger competition, but the demand for unique items will be very high if your product is appreciated by the community. In this article, we will look at the Ethereum network.
Create and add funds to a crypto wallet
In our case, this is an Ethereum one. ETH coins will be needed to pay transaction fees. You can use any wallet that supports Ethereum, but the most popular one is MetaMask. This plugin is used by DApps and token developers due to flexible settings and the ability to test applications before launching. In addition, MetaMask is supported by all well-known NFT platforms, so it will be easy to connect it to any platform.
MetaMask also has a mobile application for iOS and Android, but for our goal, it is more convenient to use a browser extension.
Note: some platforms, such as OpenSea, allow NFT minting for free, but even then you need a crypto wallet to connect to the platform.
Please note that the cost of creating an NFT will consist of two factors: the current average cost of the commission and the Ethereum rate at the time the token is issued. You will need at least $100 in ETH to issue your unique token. If you have several works, then you can release a collection at once, without spending money on commissions every time. In addition, an entire collection can be more expensive than individual pieces.
Select a marketplace
You already have a wallet and a product that you want to tokenize. Now you need to decide on which platform you will issue a token for sale. This is also a very important stage. If you choose a large marketplace, you will encounter high competition, but the demand for your token can be incredible. If you give preference to lesser-known platforms, then it may be easier to find a buyer, but it is unlikely that the token will be able to sell for a high price.
An excellent option is the OpenSea NFT marketplace. It is the largest platform for trading non-fungible tokens on Ethereum, and it also allows new works to be published for free. All you need to do to publish your first NFT is to connect the wallet to the platform. This can be done by clicking on the wallet icon in the upper right corner.
Next, select which wallet you want to connect, and connect to the marketplace. When you have everything ready, you can proceed to the main stage: creating and publishing your unique non-fungible token.
The release of the NFT
The last step remains: creating the NFT. You can issue your first token by simply clicking the Create button on the OpenSea homepage and signing the transaction. Then you must upload an image, video, audio track, or 3D model. Come up with a name for your unique item, provide a link to it if the work has already been published on the Internet, select the quantity and category, and make additional settings.
After filling in all the required fields, click Create to create your first NFT. You did it! Very simple, isn't it?
Risk Disclosure
You can create, issue and own an unlimited number of tokens, but do not forget about the risks: decentralized platforms can be hacked, and the owners of tokens will lose their assets in this case. Even such large platforms as OpenSea have vulnerabilities that allow hackers to steal digital tokens.
To minimize risks, prioritize only reliable platforms that have passed a comprehensive security audit and distribute assets across multiple wallets.
Conclusion
The market for NFTs is growing rapidly: more and more users are considering collectible tokens as an investment. The capitalization of the NFT collection Bored Ape Yacht Club alone reaches 290,000 ETH.
A small purchase or even a free copy of a piece of art can be worth millions of dollars in the future. In any case, you will have something to surprise your friends and followers on Instagram or Facebook with if you tell them that you own an NFT.